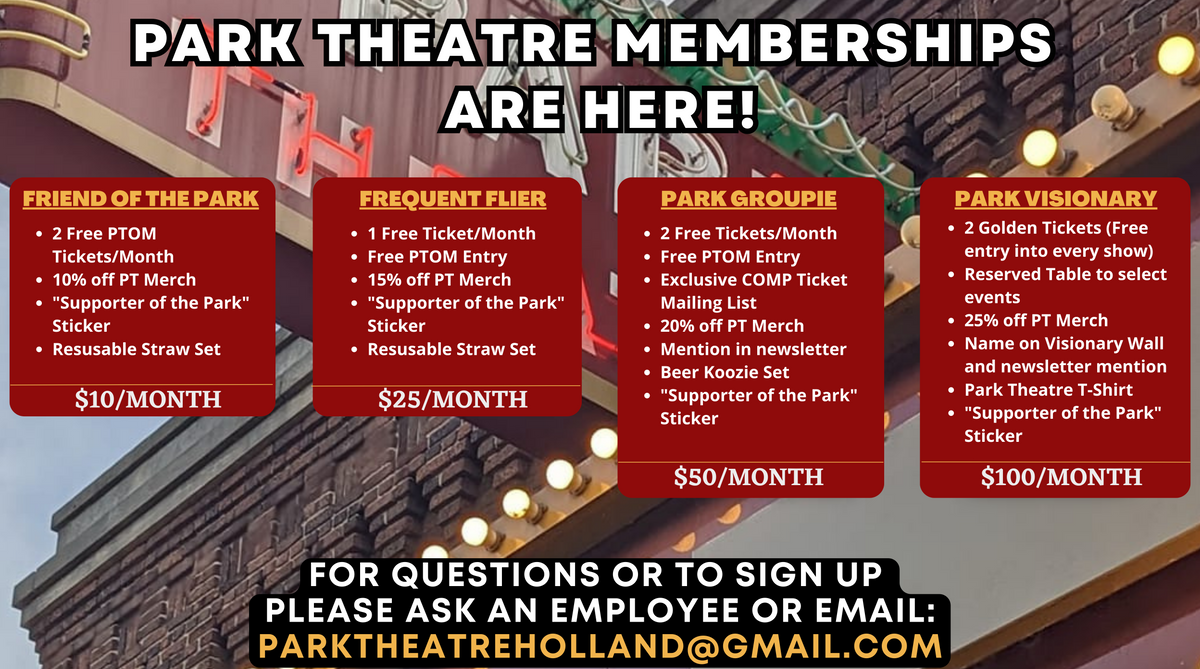 SIGNUP & MORE INFO
The Park Theatre in Holland is thrilled to announce its exciting range of new membership programs, designed to enhance the theatre experience for our valued patrons. With options ranging from $10 to $100 a month, there is a membership level suitable for everyone's budget and preferences.
Our membership programs are designed to provide exclusive benefits and privileges to our dedicated supporters. By becoming a member, you not only contribute to the sustainability of the Park Theatre but also gain access to a host of exciting perks throughout the year.
As a member, you'll receive a "Supporter of the Park" sticker and a reusable straw set with every membership. Depending on the level you choose, you'll also enjoy free tickets, entry to PTOM events, merchandise discounts, and additional exciting perks like beer koozies and reserved tables.
Signing up for a membership is easy and flexible. We offer a one-year commitment, allowing you to fully embrace the Park Theatre experience. Membership fees can be billed monthly or annually, ensuring convenience and flexibility for our members.
If you have any questions about the membership programs or would like to sign up, please don't hesitate to contact us at parktheatreholland@gmail.com. Our dedicated team will be more than happy to assist you with any inquiries.